CALLS for research into the health effects of rays beamed from speed cameras and traffic lights are mounting.
Professor Richard Bramhall, Tunbridge Wells motorist Peter Gibby and Rusthall councillor Victor Webb are pushing for an urgent study to be carried out.
The trio want to discover if any damage is caused by the beams emitted.
Former RAF electrician Mr Gibby, 88, of Rydal Drive, has been alarmed by the significant rise in lasers picked up by his in-car detection device.
He said: "It is a horrible thought when you think of the rays that could be going through your body.
"It will be interesting to see if it is harmful for your body.
"They buzz when I'm approaching a speed camera, even in garages, and next to traffic lights."
Mr Gibby bought the Snooper SD715iS eight years ago after being snapped twice in a matter of months by a speed camera.
Since then he has never been penalised for speeding, but has noticed a significant rise in the number of rays being detected.
He added: "When I travel through Tunbridge Wells town centre, the device doesn't ever stop bleeping!"
Mr Webb shares Mr Gibby's concerns.
He said: "It seems odd if they haven't been tested.
"Often we are subjected to long periods of time next to the rays, when stuck in traffic jams."
Their worries have been backed up by Professor Richard Bramhall, secretary of the Low Level Radiation Campaign, who is unaware of a study into the possible dangers of the rays.
He said: "Purely from a layman's point of view, I would like to see what the lasers are spraying out."
When entering a speed trap, marked with white lines, a radar beam is projected on to a vehicle which tracks its speed.
If it senses the vehicle is above the limit then it takes two photos, within 0.7 seconds.
The first photo is usually a standard, everyday photo.
The second one is an infra-red picture to see through anything people have on their plates to hide their number.
High frequency radio waves are transmitted out and deflected back from objects in their path to gain information on driver's speed and direction.
Add a comment
It's not every day that an academic's research paper highlights the consequences of budget cuts on road deaths and injuries on British roads and has a real impact on the debate about the value of speed camera.
But that is what London University's Emeritus Professor Richard Allsop's report "The effectiveness of Speed Cameras ", commissioned by the RAC Foundation, did this time last year.
The impact of his report on the then controversy over speed cameras led the RAC Foundation receiving the Prince Michael International Road Safety Premier award today (December 6) at the annual awards lunch in London.
The emergency budget of June 2010 led to a number of road safety partnerships deciding that speed cameras should be decommissioned to save money.
This decision aroused widespread controversy among motorists, a number of whom felt that speed cameras were no more than revenue-raising devices or even had even caused accidents and their absence would not be missed.
Local road safety partnerships were at a loss to counter this groundswell of opinion as they had little concrete evidence to refute the views held.
Into the growing debate stepped the RAC Foundation with funding to enable Professor Allsopp to make a through, independent statistical analysis of the facts.
The conclusion of his report made published in November, 2011 was clear: fixed and mobile speed cameras save lives – and if speed cameras were decommissioned 800 more people a year could be killed or serious injured.
His report also refuted the idea that speed cameras were little more than revenue-raising machines. For each penalty notice imposed of £60 in 2006/7 there was a surplus of just £4.
In making the presentation, Prince Michael said: "The RAC Foundation is one organisation which has in recent years produced a number of well- regarded reports which have helped to inform road safety policy, inform the media and the public and above have been vital in helping governments are to make the correct decisions.
"Publications such as Professor Richard Allsop's excellent paper on the effectiveness of speed cameras is a case in point."
PoliceSpeedCameras.info - Commissioned Reports nearly always are selective bias based upon the information and methodology used to come to the desired result. I've seen it many times myself. When you look closely into the methods used to gain the desired result, their are often glaring errors and questionable statistics. A British Motorists group certainly think so too. Read this article about the Professor Ricahrd Allsop's report!
UK: Motoring Group Challenges Speed Camera Safety Report
Add a comment

Association of British Drivers disputes report claiming 800 lives lost from cutting back on speed cameras.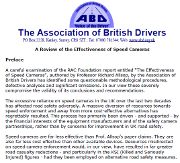 A British motoring group last week challenged the accuracy of a widely cited report on the effectiveness of speed cameras. The Association of British Drivers (ABD) released its own analysis disputing the November RAC Foundation study authored by Professor Richard Allsop. Many news reports cited the RAC work to claim that budget cuts forcing the decommissioning of speed cameras would cost 800 lives in the UK. ABD argued that this figure was based on misleading evidence.

Allsop's report relied primarily on a pair of previously conducted studies. The first was the 2005 Four Year Evaluation Report by PA Consulting and University College London, where Allsop teaches. This work relied on self-reported data from 38 speed camera partnerships. Allsop noted that this report did not properly account for the statistical phenomenon known as regression to the mean, so he adjusted the numbers using his own methodology.

"The evidence is by its nature imprecise and incomplete, and its interpretation requires subjective judgment as well as objective calculation," Allsop cautioned. "It should be noted that these estimates take no account of the possibility of the reduction in PIC (Personal Injury Collisions) and KSI (Killed or Seriously Injured) at camera sites may have resulted from diversion of traffic to alternative routes."

ABD pounced on this admission.

"In other words, one of the basic controls that might have been introduced into the study to improve its rigor has not been used -- namely the recording of some traffic counts," ABD researcher Roger Lawson wrote in the group's analysis.

The second study Allsop considered was a 1997 review of speed cameras in West London. Allsop claimed a 6.4 percent reduction in serious accidents after expanding the effects beyond the immediate geographic area where the cameras were installed.

"Professor Allsop suggests that because the impact of particular camera sites (only 21 were installed) is higher than one might expect from other data, his view is that cameras have a more widespread effect than simply at the camera sites," Lawson wrote. "Why would that be so? My suggestion is that this is simply another anomaly which cannot be accounted for and which suggests the basic data is misleading."

The ABD noted that Allsop's figures fail to control for changes in traffic volume and road layout that can affect the outcome. Allsop concluded that photo enforcement is popular in Britain based on a series of polling questions that asked whether respondents believed that the primary aim of cameras is to save lives. The ABD countered that this is not the same as directly asking about support for continued use of cameras.

"The vast majority of the population generally believe that most people have good intentions and are not deliberately attempting to deceive," Lawson wrote. "But that does not mean that those people who reply Yes actually believe that cameras have any efficacy in reducing accidents."

A copy of the ABD analysis is available in a 250k PDF file at the source link below.

Review of the Effectiveness of Speed Cameras (Association of British Drivers, 1/9/2011)
Add a comment
Published on Sunday 27 November 2011
Campaigners today branded South Yorkshire's network of cameras 'flawed' and 'unnecessary' after The Star revealed how much money they are making.
Claire Armstrong, spokesperson for the national Safe Speed campaign group, said: "Since only five per cent of accidents nationally have excessive speed as a contributory factor, including those accidents which are 'too fast for conditions' but below the speed limit, we can see how utterly over-the-top and unnecessary speed cameras are.
"We need proper engineering to resolve the accidents' cause, not merely cameras to treat a symptom."
South Yorkshire Safety Camera Partnership, which is responsible for running and maintaining the speed cameras, also revealed it has spent £5,080,153 on maintenance and upkeep of the cameras, placing new ones and any other expenditure relating to them in the last three financial years.
Just three months ago, it was revealed serious accidents and deaths at the SYSCP's 56 camera sites were reduced at 27 of the locations with the number of accidents actually going up at 24.
One site which has seen accidents increase is the county's ninth top earning site - the A625 Ecclesall Road South near Ringinglow Road which snapped 2,421 drivers and made £39,480 through fines.
There was only one accident in the eight years before the camera was installed - but six serious collisions in the 13 years afterwards.
But Chief Superintendent Keith Lumley, chairman of South Yorkshire Safer Roads Partnership, said: "It is accepted that safety cameras are a valuable contribution to the continuing fall in those killed and seriously injured on the roads of South Yorkshire and the UK.
"Our data shows that over the last three year period, there has been a reduction of 40 collisions across all fixed camera sites preventing those serious collisions that cause death and life changing injuries to those involved."
Add a comment
Speed camera on the A61 Halifax Road.
THIS is South Yorkshire's top earning speed camera site - raking in almost £150,000 in fines in just three-and-a-half years, The Star can reveal today.
Speed cameras in South Yorkshire forced motorists to pay nearly £2 million over the same period, new figures show.
And for the first time The Star can exclusively reveal the county's top 20 money-making camera locations and how many times they have caught motorists.
The figures obtained by The Star come just three months after it was revealed the county's cameras have failed to reduce accidents at nearly half of its sites.
The top grossing camera site, catching 6,210 motorists in three years and eight months and making £147,780, is on the A61 Halifax Road, where cameras monitor traffic both directions near the turning for Chaucer School, Parson Cross.
Coming a close second in the same time period, is the camera on the A57 Sheffield Parkway near Bernard Road Bridge - catching 6,407 drivers and making £113,400.
Third are the average speed cameras on the A616 Stocksbridge Bypass, which snapped 4,144 drivers and earned £81,180, followed by the B6200 Retford Road near Ballfield Drive with figures of 3,643 and £70,020.
Finishing off the top five is the camera on the A61 Penistone Road, near Rutland Road in Sheffield, which caught 1,962 motorists, making £66,300.
In total £1,995,480 was made from speeding tickets across South Yorkshire in the last three years and eight months.
Add a comment
UK - Drivers caught speeding outside a Merseyside school have been given the option of facing a "pupils' court" to explain their behaviour. Children from Greasby Junior School, in Wirral, have been confronting drivers who broke the 30mph speed limit on Mill Lane outside the premises.
Merseyside Police gave drivers the choice of three points on their licence and a £60 fine, or facing the pupils.
One driver was reduced to tears when questioned by the children. Over a three-hour period nine drivers were caught speeding outside the school.
Adrian Martin, the school's head teacher, said: "Three chose to take the fine and the points, the six others dared to come in and face our children.
"Initially they were very embarrassed, very sorry and scrabbling around for excuses, one lady got particularly upset."
Katie, a year six pupil who spoke to the drivers, said: "Some people were quite upset and very sorry.
"People said they were late for work and that they didn't know the speed limit."
Insp Steve Hall, from Merseyside Police, said: "It's one of the initiatives that Merseyside Police is working with partners on to address issues, particularly outside schools, to look at reducing the number of people killed and seriously injured on the roads.
"There is a big impact from the children confronting those drivers that exceeded the speed limit.
"They are challenging the drivers' behaviour and that sends out a resounding message that it won't be tolerated."
Add a comment